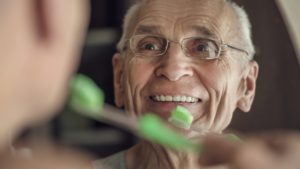 Whether you go out to the bar for an evening with your friends or play a game of pickup basketball with them, you are more likely to feel the effects of either activity the next day as you get older. You have to take better care of yourself than you did 20 years ago. While you were hopefully just as diligent in your oral hygiene regimen back in college as you are now, your teeth are definitely more susceptible to dental health problems in your golden years than they were in the old days. Keep reading for some dental hygiene tips for seniors from your dentist in Lehigh Valley.
#1: Schedule Biannual Dental Cleanings and Exams
Regardless of how well you take care of your teeth and gums at home, it is insufficient without biannual visits to a trusted dentist for seniors. After all, these appointments play a crucial role in identifying dental concerns like gum disease in the initial stages and detecting oral cancer. Plus, the special tools your dental team uses during the cleaning portion of your visit are the only instruments that can remove all stubborn plaque and caked-on tartar.
#2: Be Sure to Brush and Floss Daily
When you are consistent with your at-home oral hygiene regimen, you are giving your teeth and gums the best opportunity to remain in excellent condition for as many years as possible. To start, make sure to brush at least twice a day for two minutes at a time. Follow that up with floss in the evening, which will clean the remaining 40 percent of your teeth' surface. It is also a good idea to clean your tongue and use mouthwash regularly.
#3: Cut Down on Your Sugar Intake
From ice cream to soda to fruit juice, many of the items you'd like to enjoy daily contain a lot of sugar. Once this delicious ingredient hits your mouth, it combines with the bacteria to form an enamel-eroding acid, which significantly increases your risk of decay and cavities. To protect your teeth and gums, keep your sugar intake to a minimum.
#4: Abstain from Hazardous Behavior
Chewing on a straw or an ice cube may not seem like a huge deal, but all it takes is one wrong bite to sustain a crack or chip. Then, there's smoking, which has been linked to mouth and throat cancer, heart disease, and other serious medical conditions. Therefore, it's best to avoid risky actions like these altogether.
Regardless of age, everyone deserves the opportunity to smile confidently, chew without pain, and speak clearly. Implementing these steps in your daily life can help you maintain a rock-solid level of oral health. If you need more beneficial tips, be sure to ask your dentist for seniors in Lehigh Valley!
About the Author
Dr. John Salivonchik always liked the idea of working with his hands while combining artistry, creativity, and science to help people. He is a member of several professional organizations including the American Dental Association and the Academy of General Dentistry. Dr. Salivonchik can help you maximize your smile as you get older with his cosmetic dentistry options. Whether you need to schedule a consultation or your biannual dental cleaning and exam, visit his website or call (610) 502-1545.