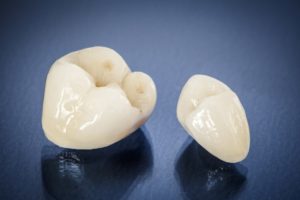 A dental crown is the most widely performed restorative procedure in the United States. The custom-made cap covers the entire surface of a tooth above the gum line, allowing it to improve its health, function, and appearance. Your crown will be made of durable material. Unfortunately, it won't last forever, but there are several things you can do to ensure your restoration lasts for decades. Your dentist in the Lehigh Valley has the tips you need to promote the lifespan of your crown.
Why Do I Need a Dental Crown?
Although dental crowns are often recommended, your dentist will only suggest one when there aren't any other options to treat a tooth. There are several reasons you may need one, such as:
Treat a large cavity.
Protect a weakened tooth from breaking.
Treat a break or fracture.
Cover dark tooth discoloration or stains.
After a root canal.
Along with a dental bridge.
Along with a dental implant.
How Long Will a Crown Last?
Modern restorations aren't made of metal. Instead, an all-ceramic material is used. While they are metal-free, they are equally durable. The average lifespan of a crown is about 5 to 15 years, but it's not unusual for them to last for decades with the right care. There are several things that can influence the longevity of your restoration, such as which tooth it is covering. Molars undergo more wear and tear, so a crown in the back of the mouth can have a higher failure rate than one in the front.
The single most important factor in protecting your crown is your oral hygiene. Although the crown isn't subject to decay, your underlying tooth is still vulnerable. It's best to use a soft-bristled toothbrush and nonabrasive toothpaste to clean your teeth and crown. The American Dental Association recommends brushing for at least two minutes in the morning and at night. It's also crucial you practice daily flossing. Besides cleaning between your natural teeth, floss the area where your crown meets the gum line.
To promote the dental crown lifespan, avoid anything that may damage it or cause it to come loose, such as eating chewy or sticky foods. Your dentist also recommends you avoid biting overly hard foods with your crown.
Your dentist will help protect your investment by checking your restoration at each preventive appointment. In addition to a cleaning and checkup, they'll ensure your crown is undamaged and functioning correctly to avoid an unplanned trip to your dentist later in the year.
Don't Wait to See Your Dentist
If you have any signs of dental crown failure, like pain or gum inflammation, don't wait to contact your dentist. They'll restore a healthy, beautiful smile using a tooth-colored restoration.
About Dr. S. John Salivonchik
Dr. Salivonchik earned his dental degree at the Temple Dental School and has attended several training seminars, like the Branemark Implant Restorative Curriculum and the Nobel Biocare Computer-Based Guided Implant Surgery Curriculum. As a well-recognized dentist in the community, you can feel confident your smile is in good hands. Contact our office today to schedule an appointment.