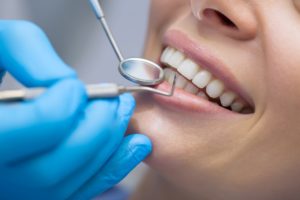 As you head into 2020 with new goals and resolutions, is a healthy smile at the top of your priority list? Your oral health is directly linked to your general well-being. There are several dental issues that can have adverse complications for your health. You can promote a healthy mouth and body with a trip to your dentist in the Lehigh Valley. Although you might think your toothbrush and floss are enough to keep your smile healthy, you also need a cleaning and checkup at least twice a year. Start the new year off right with a visit to your dentist.

Importance of Routine Dental Care
Your toothbrush and dental floss are your first line of defense against many common problems, like tooth decay and gum disease. Although they are effective, the American Dental Association also recommends you visit your dentist every 6 months for a cleaning and checkup.
Even with the best brushing and flossing habits, there are areas in your mouth you can't clean on your own. As a result, harmful tartar buildup will accumulate on your teeth. A professional dental cleaning removes it to keep your smile healthy. Besides a thorough cleaning, your dentist also monitors your dental health to detect any concerning areas sooner. Prompt intervention lessens the need for an invasive treatment in the future.
Invest in a Healthy Smile
Despite the American Dental Association's recommendation, one-third of adults didn't visit their dentist last year. There are many reasons people delay seeing their dentist, but it's often thought it's more cost-effective to only schedule an appointment when there's an issue. Unfortunately, this increases your dental expenses because it opens the door to preventable problems.
Preventive dental care stops complications from occurring in the first place. In fact, research shows every $1 spent on prevention can save you as much as $50 on restorative and emergency care. If you have dental insurance, it's easier than ever to get the routine services you need.
Although every policy differs, most insurance plans cover preventive care 100%. By paying your monthly premium, you have access to the comprehensive care you need to keep your smile healthy.
Get a Healthy Smile in 2020
As you commit to eating healthier, paying off debt, and taking your dream vacation, make sure a healthy smile is also a goal. Besides visiting your dentist, don't forget to brush your teeth at least twice a day for 2 minutes each session and floss every night before going to bed.
With the right oral hygiene habits at home and regular care from your dentist, you can achieve a healthy smile in 2020.
About Dr. S. John Salivonchik
Dr. S. John Salivonchik has provided comprehensive dental care for over 2 decades. He treats patients from all walks of life to deliver the personalized solutions his patients need for optimal oral health. Besides earning his dental degree, Dr. Salivonchik has undergone advanced training in many areas of specialty, including dental implants, periodontal applications, and laser dentistry. He provides the state-of-the-art services your smile deserves. Contact our office today to schedule our consultation.