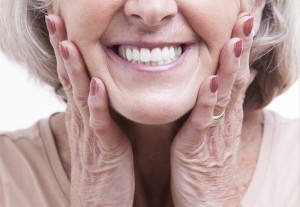 The process may have been lengthy and involved, but now that you have your new dentures the effort was entirely worthwhile. Your smile hasn't looked this good in years. To keep that new smile looking great for many years to come, Dr. Salivonchik would like to offer some important tips on how best to care for your dentures in Coplay, PA.
Rinse after Every Meal
Both full and partial dentures in Allentown should be rinsed after you eat. Just hold your prosthesis under cool running water in order to remove stuck-on food particles. If possible, place a small towel in the sink to prevent breakage.
Use a Gentle Hand
Dentures are solid and strong, but they are breakable. Therefore, you need to take care not to bend or break full dentures or damage the brackets or clasps on partials.
Brush Every Day
Your new teeth must be cleaned just as often as natural teeth—that means every day. Doing so not only extends the life of your prosthetics and keeps the false teeth looking white and bright, but it also helps to ensure your oral health. Using a soft brush and a nonabrasive cleaner, gently brush your full or partial to remove the daily accumulation of plaque, debris and particles of food. If you use an adhesive, pay particular attention to the underside of your appliance.
Soak  Overnight
Wearing dentures overnight is not a good idea. Instead, give your gums a rest and soak your full or partials in water or a gentle cleaning and soaking solution. Never let your dentures dry out as this can cause them to warp.
Denture Don'ts
Now that you know what you should do to take care of your dentures, Dr. Salivonchik would also like to remind you of what not to do.
Don't use abrasive cleaners or brushes. Toothpaste often contains mild abrasives that can scratch. And be sure to select a brush made just for false teeth or a toothbrush with soft bristles.
When choosing a cleaning or soaking solution, read the ingredients and avoid those that contain bleach. This powerful chemical can weaken dentures and might alter the color, too.
Keep your false teeth out of the sun and out of hot water. Both can cause warping, so they no longer fit well.
For Dentures in Coplay, Call Our Office Today
Whether you are already a denture wearer or you are thinking of getting them, Dr. Salivonchik and his team are at your service! We accept patients from Coplay, PA, Allentown and the surrounding communities.