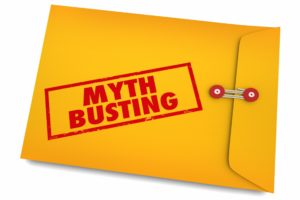 Did you know your smile can last for a lifetime with the right care over the years? Unfortunately, if you believe common misconceptions about your teeth and gums, it may prevent you from reaching your oral health goals. Your dentist in the Lehigh Valley is here to break common myths about your dental health to ensure you make the right choices for your smile.

1. The Color of Your Teeth Indicates Their Health
When you see someone who has yellow teeth, you might assume they don't maintain their oral hygiene; whereas, you might view a person who has white teeth as having a healthy smile. Did you know the color of your teeth doesn't indicate the health of your smile? Some people have naturally darker teeth, but that doesn't influence their health. Although someone might have a bright smile that doesn't necessarily mean their teeth are healthy. In fact, white spots on the teeth can show calcium loss or excessive plaque buildup.
2. Whitening Treatments Damage Your Teeth
Whitening treatments are a great way to turn back the hands of time to reveal a beautiful smile. Despite what you may have heard, teeth whitening is safe when used according to the manufacturer's guidelines. While early whitening treatments were damaging to the enamel, now they are specially formulated, so there's no risk of permanent damage.
3. Bleeding Gums is Normal
If you notice blood-tinged spit in the sink, you may think it's normal. You were probably pushing too hard, right? In some cases, this may be true, but it's usually an early warning sign of gum disease. This is a preventable infection that destroys the supporting structures of your teeth. Over time, it can lead to tooth loss. Thankfully, you can treat the infection without experiencing irreversible damage when it's caught early.
4. More Sugar Means More Cavities
Despite being avoidable, tooth decay is the biggest threat to your oral health. The leading contributor is sugar. As a result, many people believe the more sugar they consume, the greater the risk of decay, but this isn't necessarily true. Consuming any amount of sugar increases the risk of tooth decay because it turns to an acid when it combines with your saliva and plaque. It will slowly eat away at your enamel if it isn't removed with proper brushing and flossing. This doesn't mean you have to ignore your sweet tooth, but it's best to limit how much sugar you eat or drink. Don't forget to brush twice a day and floss every night to remove harmful buildup.
Get the Facts for a Healthy Smile
There's a lot of misinformation you may see on the internet or hear from friends. If you're unsure about something you've heard, don't hesitate to ask your dentist for clarification. They'll give you the facts you need to achieve your oral health goals.
About Dr. S. John Salivonchik
Dr. Salivonchik has been a trusted choice for exceptional dental care for over 20 years. He is a highly sought dentist for general, cosmetic, and restorative services that cater to each patient. As a member of the American Dental Association and Pennsylvania Dental Association, you can rest assured your smile is in good hands. Contact our office today to schedule your consultation.