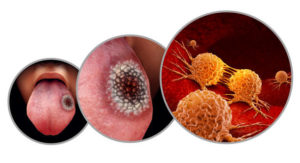 Did you know 54,000 Americans are diagnosed annually with oral cancer? It claims the lives of 12,000 people every year. April is Oral Cancer Awareness Month, dedicated to increasing public education about the importance of having regular screenings. Contrary to common rumors, you don't have to be a smoker to be at risk. Here's why you shouldn't skip your next dental checkup to benefit from an oral cancer screening.
What are the Signs of Oral Cancer?
Oral cancer is classified as those affecting the mouth, neck, and head, but brain cancer is in a separate category. Although it is easy to detect, it's often not found until it has reached advanced stages. Once it has metastasized and spread to other areas of the body, it becomes more difficult to treat. As a result, there is only a 68% 5-year survival rate, which is attributed to late detection.
The early signs of oral cancer can be subtle and easy to overlook. It's important to monitor your mouth for any changes, like:
Lumps or bumps on the mouth or lips.
Oral sores that won't heal.
Red or white patches in the mouth.
Shifting or loose teeth.
Feeling like something is caught in your throat.
Who Is at Risk of Oral Cancer?
Smoking can increase your risk of oral cancer significantly, but it can affect anyone. However, researchers have found various factors linked to it, like genetics, a history of HPV, drinking a lot of alcohol, and tobacco.
Healthcare professionals haven't released any guidelines highlighting the frequency of having regular cancer screenings, but most dentists include them in their preventive services.
Benefits of Early Detection
Early detection and treatment are vital for a positive outcome. Healthcare professionals believe that 80% of new oral cancer cases can be detected at routine cleanings and checkups.
Besides checking the health of your teeth and gums, your dentist will also look for anything concerning, like bumps, patches, or changes to your bite. If they find anything suspicious, they may recommend a biopsy to have tissue tested in a laboratory. Your dentist will inform you of the results and if you need any additional treatments.
You already visit your dentist every 6 months, so why not benefit from the power of early detection? Ask your dentist about an oral cancer screening during your next cleaning and checking. If you notice anything concerning between your regular appointments, don't wait to contact your dentist.
About Dr. S. John Salivonchik
Dr. Salivonchik earned his dental degree from Temple Dental School and has regularly pursued advanced education in many specialties, like implant surgery, laser dentistry, and periodontics. He is a proud member of several professional organizations, including the Academy of General Dentistry and the American Dental Association. Request an appointment through our website or call (610) 813-2855.