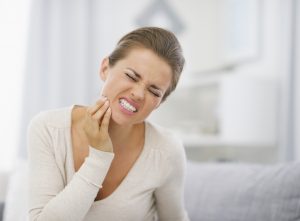 A dental emergency is never something anyone is truly prepared to experience; however, one in six Americans face one every year. When a dental emergency strikes, you cannot just head to your local emergency room. These facilities are not capable of treating emergencies that relate to the teeth. With time of the utmost importance, you need an Allentown dentist who offers emergency services. In addition, you need to know how to properly respond to the most common emergencies to promote a more promising outcome.

Knocked Out Tooth
Among the most common dental emergencies involves having a tooth knocked out from trauma or injury to the mouth. In some cases, it can be reinserted. However, the success of it relies on how you react during the situation.
As soon as the tooth is knocked out, find the tooth and hold it by the crown. Carefully rinse the tooth with water. Do not use soaps, cleaners, or scrub the tooth. You will need to keep the tooth moist, so do not dry it off. Place it in a cup of milk and head to our office immediately.
Dislodged Tooth
When trauma to the mouth occurs, a tooth may be moved out of position. You need to call our office right away to have the tooth evaluated for damage. If possible, gently try to move the tooth back into its correct position, but do not force it. If you are successful, bite on a piece of gauze to prevent it from moving.
Lost Restorations
23% of dental emergencies are related to lost restorations, such as fillings, caps, and crowns. Often, people will try to reattach them on the own or will not seek treatment. Do not delay care or try to fix them on your own. You need to schedule an appointment so we can replace the restoration to restore the tooth's health and integrity to prevent additional damage and infection.
Abscessed Tooth
An abscessed tooth is very painful due to an infection that has developed. If the tooth is not quickly treated, the infection can spread to other areas of the body. If you have a sudden or worsening toothache, swelling, or a pimple-like bump near a tooth, call our office right away.
Treating Dental Emergencies
Dental emergencies can take many forms, making it very difficult to determine what is classified as an emergency and what can wait for the next available appointment. If you are ever in doubt as to if you are having an emergency, do not hesitate to call our office. We will get you into our office as soon as possible to treat the situation.
You are likely to feel pain and discomfort when having an emergency so avoid eating on a painful tooth. To help manage the pain, you can take over-the-counter anti-inflammatories and apply ice to the outside of the mouth. Gargling with salt water will help resolve discomfort while helping to prevent infection.
If you have a dental emergency, do not wait. Call your Lehigh Valley dentist for immediate care.