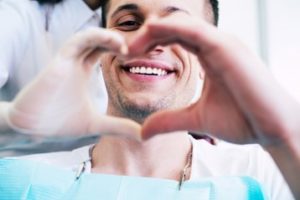 Valentine's Day is the only reason that February is special. It's also Heart Health Month. This means that taking a look at what can cause damage and how you can protect one of your most vital organs, your heart. Keep reading to find out how dental health and heart health are connected and how you can lower your risk of heart issues.
The Link Between Your Heart and Your Teeth
Scientists have found that the link between heart conditions and oral health lies within bacteria found in abscesses and gum disease. An abscess is a pocket of bacteria that forms when bacteria corrupt your tooth. This puss-filled sac can form at the tip of the root or on the side of gums directly above the infected tooth. Gum disease causes the gums to swell, bleed and pull away from the teeth. The bacteria from these infections can enter your blood and spread the poison to your heart or even your brain!
Conditions That Are Caused by Oral Bacteria
Streptococcus sanguis is a strain of oral bacteria that has been connected to strokes, coronary heart disease and infective endocarditis. Dental infection can cause a stroke because by causing the blood to clot and minimize the flow of blood to the brain and heart. Bacteria that are carried from tainted areas in your mouth to your heart can also cause infective endocarditis. This is a condition in which the heart valves or the smooth lining on the inner surfaces of the heart become diseased. Studies have found that problems like gum disease can put you at a higher risk of developing heart disease, a condition where fatty deposits begin to block the arteries, slowing the flow of blood.
Lower Your Risk
There are many simple ways to minimize your risk of developing heart conditions. Keeping your mouth healthy is a great way to start! A proper dental care routine consists of flossing your teeth day and brushing your teeth for two minutes twice a day, every day. It's also a good idea to make healthy food choices. Reducing your sugar intake, both sweets and breads, will minimize the development of decay. Nicotine use prevents your gums from receiving the flow of blood that your gums need in order to fight off infection. While kicking this habit is not easy or simple, your doctor can help you find the best option for you.
A healthy lifestyle and proper oral health routine are the key keeping your risk low. By protecting your mouth from cavity-causing bacteria will not only prevent gum disease, but it can also help keep your heart protected.
About the Practice
Dr. S. John Salivonchik has been transforming smiles for more than 20 years. His reputation as a skilled general, cosmetic and restorative dentistry makes him a frequently sought-after practitioner. Dr. Salivonchik earned his Doctor of Dental Medicine from Temple Dental School and graduated Summa Cum Laude. He is dedicated to continuing his education and attends advanced training and seminars throughout the country. If you're ready to get your dental health back on track, contact the office at (610) 502-1545 or visit the website to schedule an appointment.