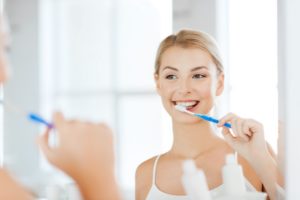 No one ever expects a dental emergency to happen to them; however, they are more common than you might realize. 1 in 6 Americans faces this situation annually. Thankfully, many dental emergencies can be avoided with a few precautionary steps. Although you can't fully stop one from happening, here are 6 tips to lessen the likeliness of needing urgent dental attention.
1. Visit your dentist twice per year.
The American Dental Association recommends you visit your dentist twice a year for a cleaning and checkup. Although you might feel the appointments aren't necessary, skipping your semi-annual visits puts you at risk of a dental emergency. They allow your dentist to monitor your oral health to detect any concerning issues while are still small, like a cavity, to prevent it from worsening to avoid a big problem down the road.
2. Maintain your oral hygiene.
While your dentist is an invaluable asset to your oral health, it's only half the care your smile needs to stay healthy. Your oral hygiene habits at home keep your teeth and gums healthy in between your appointments. It's best to brush your teeth at least twice daily and floss every night before going to bed to keep tooth decay and gum disease at bay.
3. Wear an athletic mouthguard.
At least 5 million Americans lose teeth in sports-related injuries annually. You can significantly lower your risk of a dental emergency by wearing an athletic mouthguard if you play sports. It provides a layer of protection for your teeth, gums, soft tissues, and jaw if there's impact or injury to your face or mouth.
4. Treat bruxism with a nightguard.
Grinding and clenching your teeth is a bad habit that can damage your teeth. Over time, the stress and pressure can weaken your enamel and loosen your teeth. A nightguard provides a cushion between your upper and lower arches to prevent an unplanned trip to your dentist.
5. Maintain a healthy diet.
The foods and drinks you consume affect the health of your smile. It's best to eat a balanced diet that's limited in sugars and starches to prevent tooth decay. You'll preserve your enamel to avoid an unexpected toothache keeping you awake at night.
6. Don't ignore dental issues.
If you have a dental problem, like a cavity or gum disease, don't wait to have it treated. If you delay getting the care you need, the issue will linger in your mouth until it requires immediate attention. Your dentist can quickly resolve the concern to restore your oral health.
Protect Your Smile
You can help ensure your smile lasts for a lifetime by taking a proactive approach to protecting your teeth and gums from any unnecessary complications.
About Dr. S. John Salivonchik
Dr. Salivonchik has over 20 years of experience as a dentist. He earned his dental degree at Temple Dental School. He regularly continues his training to offer advanced services to his patients. If you need an emergency dentist in the Lehigh Valley, Dr. Salivonchik is here for you. Contact our office today to schedule an appointment.