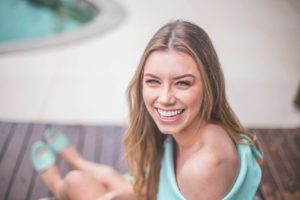 If your pearly whites don't shine like they used to, you deserve a beautiful smile that's as bright as the summer sun. You don't need to hide behind your stained teeth any longer. Summer is the ideal time to invest in teeth whitening to look and feel your best while you soak up the sun. Here are 6 reasons it's the perfect opportunity to give your smile a makeover.
1. Smile Without Any Worry
If you're unhappy with the appearance of your teeth, you probably don't like showing them when you eat, smile, or speak. Even taking pictures might make you uncomfortable, but you don't need to feel embarrassed by your teeth anymore. Professional whitening systems can get them as much as 8 shades brighter after just one treatment, so you can smile without any apprehensions.
2. Explore New Activities
Research shows your smile is linked to your self-esteem. If you're not happy with your teeth, it can create social anxieties because of your insecurities. Teeth whitening will give your confidence a boost. You will be more outgoing to try new activities and events you might have previously avoided.
3. Turn Back the Clock
Tooth discoloration can make you look older than your real age. You can instantly turn back the clock by treating stains. Not only will it take years off your age, but a white smile will also make people perceive you as being intelligent, successful, and happy.
4. Multiple Treatment Options
You have more options than ever to reveal a white smile. Your cosmetic dentist will help you find the solution that accommodates your needs and preferences. If you want quick results, an in-office treatment might be the option for you because it only takes about 1 hour. As an alternative, you might prefer a take-home kit. You'll have everything you need to restore your smile at home and around your schedule.
5.It's Quick and Easy
If you're planning on attending a school reunion, wedding, or business event, you can quickly change your appearance before the big day. You won't need to wait several weeks or months to see an improvement in the color of your teeth. You'll enjoy a safe solution to drastically enhance your smile before your upcoming event.
6. Lasting Results
If you're dissatisfied with the color of your teeth, a quick trip to your cosmetic dentist can give you the gift of confidence. You'll enjoy every moment of summer by achieving a beautiful smile.
Get a White Smile Today
Don't spend another summer feeling less than your best. A whitening treatment is the ideal solution to make the most of your summer plans.
About Dr. S. John Salivonchik
For over 20 years, Dr. Salivonchik has been a trusted source for advanced dental services. Besides earning his dental degree, he has completed extensive training in many specialties, like restorative dentistry, laser dentistry, Invisalign, and dental implants. If you're ready to improve your smile, contact our office today to schedule an appointment for teeth whitening.