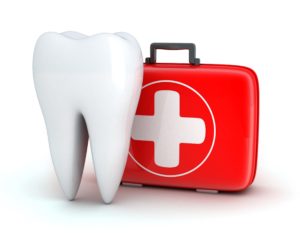 Summer is finally here, which means your dream vacation is right around the corner. A dental emergency is the last thing you'd expect to ruin your travel plans; however, 1 in 6 Americans requires urgent dental care each year. Although there's never a good time for one to occur, having an unexpected oral health issue while you're away from home can quite stressful. Don't worry, here are 5 tips to prevent dental emergencies, so you don't end up sitting in the dental chair this summer.
1. Visit your dentist before you leave.
While dental emergencies often occur from trauma, many are the result of an untreated oral health issue, like a cavity. Without the proper care, a small situation can turn into a big problem. You can be confident your smile is healthy by visiting your dentist for a cleaning and checkup before leaving for your vacation. They'll clean your teeth and ensure there isn't a potential dental emergency lingering in your mouth.
2. Practice safe swimming.
Dentists across the country see an increase in oral health injuries from swimming pool accidents during the summer. Slipping on a wet deck or bumping your mouth on the pool wall can easily lead to a chipped or broken tooth. You don't have to skip taking a dip if you practice safe swimming. Avoid running on wet surfaces and don't dive into shallow water to reduce your risk of injury.
3. Wear an athletic mouthguard.
The weather is great for a friendly game of football or rollerblading through the park. No matter the activity you enjoy, don't leave your smile unprotected. The Journal of the American Dental Association reports as much as 39% of all dental injuries are sports-related. You can safeguard your smile by wearing an athletic mouthguard to protect your teeth and gums from any trauma.
4. Choose healthy snacks.
You're probably going to indulge in many savory dishes and tasty treats while you're traveling. Don't let the foods you eat blemish your smile. It's best to eat nutritious snacks and meals that are limited in sugars and starches. If you can't ignore your sweet tooth, rinse your mouth with water or brush your teeth when you're finished.
5. Don't wait to see a dentist.
If you have a dental emergency despite your precautions, don't wait until you go home to see a dentist, or you might lose your tooth. Before you leave for your trip, look for an emergency dentist near your destination to have a phone number handy just in case.
Don't let a dental emergency ruin your summer plans. Enjoy your vacation to the fullest by keeping your smile a priority.
About Dr. S. John Salivonchik
Dr. Salivonchik has over 2 decades of experience in the dental field. As a lifelong learner, he has completed extensive training in many specialties, like laser dentistry, implant surgery, and periodontics. He is a member of various dental organizations, including the American Dental Association and the Academy of General Dentistry. If you need an emergency dentist, contact our office today.