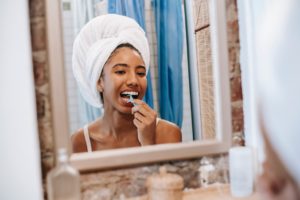 The holidays are behind you as you step into 2023 with a list of new goals. Many people plan to eat out less, exercise, or cut unnecessary expenses, but they often overlook their dental health. Your oral and general health are closely connected, which means healthy teeth and gums are vital for your wellness. You can support a healthy mouth and body by committing to 5 dentist-approved New Year's resolutions.
1. Improve Your Brushing Routine
Your toothbrush is the most used tool you have at home to prevent common dental issues. The American Dental Association recommends brushing at least twice daily, if not after every meal. Use a soft-bristled toothbrush and fluoride toothpaste to clean your teeth for 2 minutes every time you brush.
2. Don't Forget to Floss Daily
Besides brushing, flossing is just as important. Brushing alone can leave 40% of your teeth surfaces uncleaned, which can increase your risk of gum disease.
The Centers for Disease Control and Prevention reports that 50% of Americans have the infection. Not only can it cause tooth loss, but it can negatively affect your health, increasing your risk of cardiovascular disease, Alzheimer's disease, and many other concerns.
Daily flossing is the best way to keep your gums healthy. Use high-quality floss that has earned the American Dental Association's Seal of Acceptance.
3. Cut Back on Sugar
Sugar in the foods and drinks you consume feeds bacteria that can erode your enamel. Although tooth decay is preventable, 92% of adults have had cavities. It's best to limit sugary foods and drinks. If you can't resist your sweet tooth, brush your teeth after you've finished. You can rinse your mouth with water if your toothbrush isn't handy.
4. Drink More Water
Healthcare professionals recommend drinking at least eight 8-oz glasses of water daily to stay hydrated. Hydration keeps your mouth moist. A dry mouth is a perfect environment for bacteria growth. Taking a sip of water will moisten your mouth and cleanse it in between brushing and flossing.
5. Visit Your Dentist Regularly
A healthy smile relies on regular dental care. The American Dental Association recommends visiting your dentist every 6 months for a cleaning and check. Routine appointments stop dental issues from occurring in the first place to preserve your smile.
You'll be less likely to need costly treatments later to save money down the road. Research has shown that $1 spent on prevention can save up to $50 on restorative fees.
It's never too late to recommit to your oral health. Give your teeth and gums the attention they deserve in 2023 for a healthy smile that can last for a lifetime.
About Dr. S. John Salivonchik
Dr. Salivonchik earned his dental degree at Temple Dental School and regularly attends advanced training in specialty services, like dental implants, laser dentistry, and cosmetic dentistry. He is a reputable dentist in Coplay and a member of many professional organizations, including the American Dental Association. Request an appointment through our website or call (610) 813-2855.