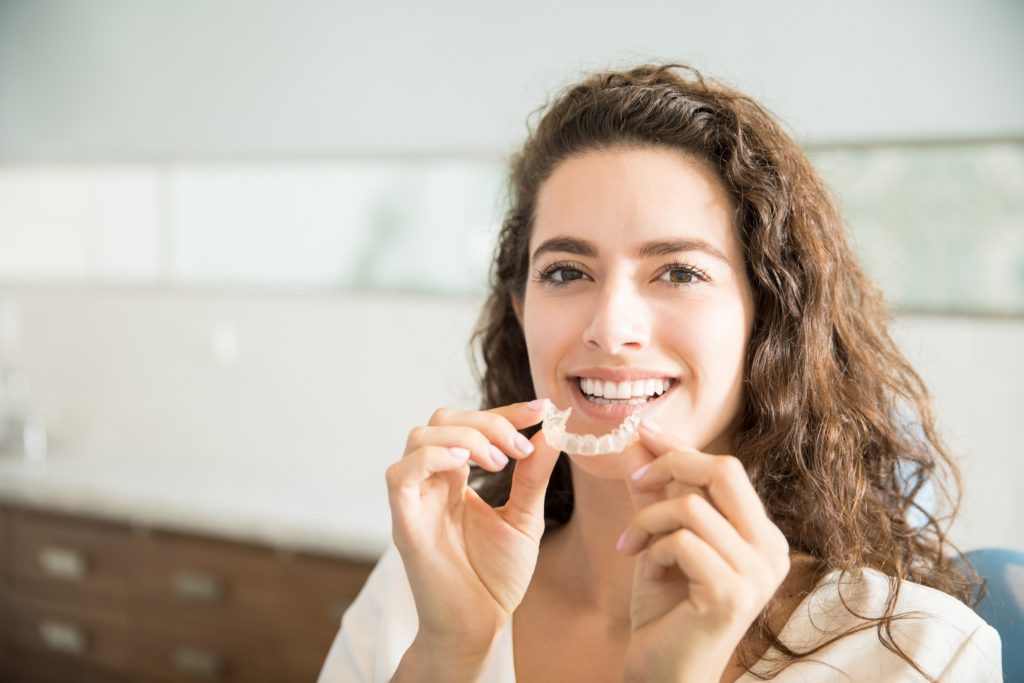 Correcting your bite and alignment concerns is an investment in your oral health and quality of life. Nowadays, you have more options than ever to align your teeth. Besides traditional braces, many people are choosing clear aligners because they provide fewer restrictions than metal braces. Here are 5 freedoms of Invisalign you'll enjoy while on your journey to a straight smile.
1. Freedom to smile confidently.
If you're already insecure about the appearance of your teeth, the last thing you want are brackets and wires drawing even more attention to your mouth. You'll have the freedom to smile without any worry when choosing Invisalign. Clear aligners are worn over your teeth to gradually reposition them. You'll have a nearly invisible treatment for a sophisticated solution.
2. Freedom to eat anything.
There are several foods patients must avoid while wearing traditional braces; however, you won't need to skip your favorite snacks with Invisalign. Since the aligners are removable, you can eat and drink anything, but it's important to only have water while wearing them. Don't forget to brush and floss your teeth before placing the aligners back into your mouth.
3. Freedom from discomfort.
It's common for brackets and wires to irritate the sensitive tissues on the inside of your mouth, like your lips and cheeks. You'll avoid any unnecessary discomfort with Invisalign in the Lehigh Valley. The aligners are smooth and custom-made for a comfortable fit. There also won't be any tugging or pulling from adjustments because the system doesn't use an archwire. Instead, only the gentle, consistent pressure of the aligners as they reposition your teeth.
4. Freedom to socialize.
If you're insecure about your smile, you might avoid smiling or gathering with friends. There isn't any reason to feel embarrassed about your appearance. No one will notice your translucent aligners, so you can take pictures, laugh, and smile to enjoy more opportunities to socialize.
5. Freedom from the dental chair.
Since wires aren't used to move your teeth, you won't need adjustment appointments to spend less time in the dental chair; however, you'll still need to see your dentist every few weeks, so they can monitor your treatment plan. Invisalign is perfect for busy adults who don't have a lot of time in their schedule for frequent dental visits.
Enjoy the Flexibility of Clear Aligners
Invisalign is an excellent orthodontic system for patients who need an alternative to metal braces. You'll enjoy more flexibility to ensure your lifestyle isn't interrupted by your treatment. In about 12 months, you'll have the healthy, straight smile you deserve using clear aligners.
About Dr. S. John Salivonchik
Dr. Salivonchik has over 20 years of experience in the dental field. He earned his Doctor of Dental Medicine at Temple Dental School. He regularly completes advanced training in many specialties, like computer-based guided implant surgery, periodontal applications, and Invisalign. He is a certified provider for clear aligner therapy to provide personalized services for each patient. If you're interested in Invisalign, contact our office today to schedule your consultation for a straight smile.