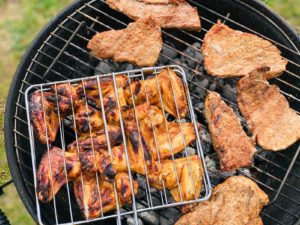 Summer is the perfect time for barbecues, pool parties, and special events. You might have avoided social gatherings in the past, but this year is different because you've replaced your missing teeth with dental implants in the Lehigh Valley. As the next best thing to your real teeth, you won't have to leave your favorite summer foods off your plate because you've regained 70% of your natural biting force. Here are a few tips to enjoy 4 of your seasonal favorites.
1. Corn on the Cob
Sweet, buttery corn on the cob is a summer staple, but your dental implants may not appreciate it as much as you do. You know the kernels will get stuck between your teeth, but your dental implants aren't any exception. It can be almost impossible to remove them from around the gum line; however, that doesn't mean you shouldn't eat it. Instead, cut the corn off the cob so it doesn't harm your dental implants.
2. Hot Dogs
Families across the country will be firing up barbeques to grill juicy hot dogs. Although they are a popular meal for summer festivities, they contain saturated fats, which can irritate your gum tissue. In some cases, it can even lead to an infection. A single hot dog won't cause your dental implants to fail, but it's best to only eat them in moderation to avoid any unnecessary complications.
3. Chewy Meats
Barbequed steaks, ribs, and other meats are savory meals that you might have missed since losing your teeth. You don't have to skip your preferred meats any longer; however, your implant dentist recommends taking a few precautions. Meats that require a lot of chewing will put your dental implants under more wear and tear. It's better to cut them into smaller pieces to make them easier to chew. You'll want to avoid eating meats off the bone to safeguard your smile. If possible, it's better to choose slow-cooked or ground meats because they are easier to chew to place your dental implants under less strain.
4. Sugary Treats
Ice cream, cookies, and other sugary treats are a tasty way to end the day, but you'll want to watch what you eat. Your dental implants aren't subject to tooth decay, but cavity-causing bacteria can erode your restorations. It's best to choose healthier alternatives, like fresh fruit. If you give in to your sweet tooth occasionally, don't forget to brush and floss well afterward.
Love Your Summer Smile
Dental implants are a great investment in your oral health and quality of life. You'll enjoy every minute of summer thanks to your new confident, beautiful smile.
About Dr. S. John Salivonchik
Dr. Salivonchik has over 20 years of experience in dentistry. As a lifelong learner, he has advanced training in many complex procedures, including dental implants. His career excellence has afforded him memberships to various prestigious dental organizations, including the American Academy of Implant Dentistry. If you're ready to replace your missing teeth, contact our office today to schedule your consultation.