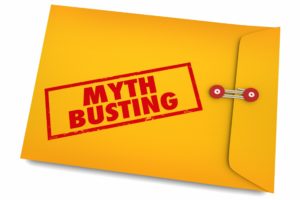 You have access to limitless information right at your fingertips to maintain a healthy smile. Although a quick Google search on your smartphone can provide extensive results, not everything you find online is true. Don't let common myths about oral health compromise your smile. Your dentist in the Lehigh Valley has the facts you need about 4 dental misconceptions.
1. Myth: Brushing harder gets your teeth cleaner.
Fact: A little elbow grease is important for some tasks, like scrubbing your bathtub. Your teeth are not like your shower walls. Brushing aggressively will not clean them better. You can cause irreversible damage by eroding your enamel or gumline. If you have a habit of pushing too hard when brushing, consider an electric toothbrush that features a pressure sensor.
2. Myth: Floss isn't that important.
Fact: Flossing is equally important as your toothbrush. Your bristles can't clean everywhere in your mouth, like between your teeth. Up to 40% of your smile can be left uncleaned if you're only brushing. Plaque and bacteria can accumulate near the gum line, causing an infection that can destroy your smile. Although gum disease is preventable, at least 50% of Americans have it, which is the leading cause of tooth loss. Several studies also link gum disease to an increased risk of various health issues, like cardiovascular disease, Alzheimer's disease, and diabetic complications. While many people view it as a chore, take the time to floss between each tooth at least once daily.
3. Myth: You can brush away a cavity.
Fact: No amount of brushing will repair tooth decay because your enamel can't regenerate. Although it's the hardest substance in your body, cavity-causing bacteria can weaken it. The only way to stop the damage is with the help of a dentist. If the cavity is still small, a filling will be all that's needed; however, waiting to see a dentist for treatment can require a more advanced procedure, such as a root canal. You can safeguard your smile from decay by brushing twice daily, flossing nightly, and limiting your sugar and starch consumption. Don't forget to visit your dentist at least twice a year for a cleaning and checkup.
4. Myth: White teeth are healthy.
Fact: Teeth naturally come in countless shades and tones. Although some people have naturally white teeth, they may have untreated dental problems. While tooth discoloration and stains are often attributed to poor dental health, even the brightest of smiles can have issues lingering in the mouth.
Don't let misinformation prevent you from reaching your dental goals. If you have any questions about your oral health, don't hesitate to contact your dentist.
About Dr. S. John Salivonchik
Dr. Salivonchik has provided advanced dental care for over 20 years, like computer-based guided implant surgery, laser dentistry, Invisalign, and cosmetic dentistry. His career excellence has earned him memberships with various organizations, including the American Dental Association. He believes a beautiful smile begins with a healthy foundation. If it's time for your next preventive visit, contact our office today for an appointment.