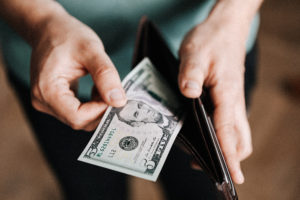 If you are like many Americans, your tax refund has probably hit your bank account. If the extra cash is burning a hole in your pocket, don't blow it on a big-ticket purchase. Instead, use the money to invest in better oral health. Here are 3 ways you can use your tax refund to enhance your smile.
1. Schedule a Cleaning and Checkup
The American Dental Association recommends a cleaning and checkup every 6 months to keep preventable issues at bay, like tooth decay and gum disease. However, money has been tight for many people. If you have had to skip your routine appointments, there's no better time to visit your dentist.
Every $1 spent on preventative dentistry can stay up to $50 on restorative costs. Spending a few dollars out of your refund is a small price to pay to invest in reduced dental expenses by preserving your natural smile. Your dental insurance can cover 100% of the cost of preventive care after a co-payment.
2. Book Any Dental Work
If you've had to pinch pennies to make ends meet, you're not alone. Dental work can get put on hold because of your finances. Unfortunately, this increases the risk of a dental emergency, which affects 1 in 6 Americans annually. You can avoid a costly dental emergency by scheduling any dental work, like fillings, gum disease therapy, or a root canal.
Don't wait for a small issue to turn into a big problem because you may not have the funds to treat it later. If you have dental insurance, you can use your coverage to offset the cost. After meeting your annual deductible, your insurance can pay up to 80% of the expense of common restorative procedures.
3. Enhance Your Smile
A beautiful smile is associated with youth, success, and confidence. If you don't like the way your teeth look, treat yourself to teeth whitening, dental bonding, or another cosmetic procedure to boost your self-esteem.
Research has shown that an attractive smile is more appealing to employers, which can lead to new career opportunities.
There are more treatment options than ever before to find a solution that fits your budget. Your cosmetic dentist will create the personalized plan you need to reach your goals without draining your bank account.
Don't waste your tax refund on a large purchase or shopping spree. With oral and general health closely connected, you can use the money to support a healthy mouth and body by achieving your best smile.
About Dr. S. John Salivonchik
Dr. Salivonchik earned his dental degree at Temple Dental School and has regularly continued his education in advanced specialties, like computer-guided implant placement, Invisalign, cosmetic dentistry, and laser dentistry. He is a reputable member of many professional organizations, including the American Dental Association. Request an appointment through our website or call (610) 813-2855.