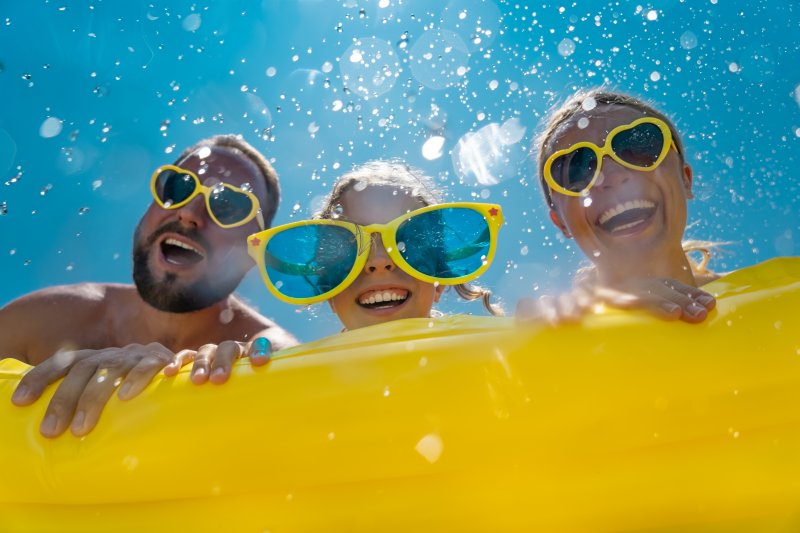 You want your smile to look its best this summer, right? If your teeth aren't up to standard, your vacation photos may not turn out as planned. It'd be a waste to have a wonderful summer experience and not get good pictures of yourself. Fortunately, your dentist in Lehigh Valley is here to help! Listed below are three ideal cosmetic dental treatments for the summer. Consider if one (or more) of them could give you a smile that genuinely embodies fun in the sun!
Porcelain Veneers
Porcelain veneers are thin ceramic restorations that fit over the front of teeth. They're made to look exactly like actual tooth enamel and thus fix/mask various cosmetic imperfections simultaneously. The latter include stains, chips, cracks, gaps, and even slightly crooked teeth.
You could rest assured that the result would look entirely natural. Rather than some grayish glue, the bonding process employs a tooth-colored resin to hold the veneer in place. The complete treatment should only take two appointments.
Metal-Free Restorations
Dental restorations would be beneficial if you're looking to hide major tooth cracks or other trauma.
Metal-free dental restorations are crowns, bridges, and fillings that don't have any metal. Instead of using traditional materials like gold/silver, they rely on dental porcelain to create natural-looking additions that resemble natural tooth enamel. They're used to cover tooth cracks, chips, root canal damage, and more.
As a treatment, they're highly effective. Any of the three could last for over a decade with proper care! Plus, they allow you to avoid more involved alternatives like tooth extraction.
At-Home Teeth Whitening
Professional teeth whitening can remove stubborn stains that your toothbrush can't handle. A whiter smile would be assured whether the discoloration is due to food, infection, or aging.
For the at-home choice method, your dentist would provide a set of custom-made mouth trays and bleaching gel that's more concentrated than over-the-counter versions. Wearing the gel-infused trays would then bleach your stained enamel white. Doing so for an hour per day for a couple of weeks could make your teeth whiter by 6-8 shades!
A white, shining smile will only enhance your summer. Talk to your local dentist about the above treatment options so your vacation will be better than ever!
About the Author
Dr. John Salivonchik is one of the top dentists in Coplay, Pennsylvania. As a member of the American Dental Association, Pennsylvania Dental Association, and the Academy of Cosmetic Dentistry, he knows exactly how to make a smile beautiful. He has even attended advanced training and seminars throughout the U.S. as part of his continuing education efforts. Dr. Salivonchik currently practices at his self-titled clinic and can be reached at his website or by phone at (610)-502-1545.