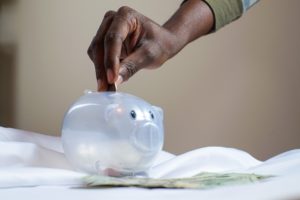 Despite continual innovations in dentistry, tooth loss is still a prevalent problem. According to the American College of Prosthodontists, 23 million Americans don't have any remaining natural teeth, while 12 million are completely toothless in one arch. 90% of people choose dentures to replace their missing teeth because they are convenient and affordable. They look and feel more realistic than ever; however, it's normal to have concerns about the cost of dentures. No one wants to be surprised by a large dental bill. Here are 3 factors that influence the amount you'll spend on your new smile.
1. Materials
The most important factor to affect the price tag for your dentures is the materials used to make them. Although everyone likes to save money, denture materials aren't an area where you want to pinch pennies. Economy materials may cost less, but you'll pay more in the long run because they tend to be brittle. Not to mention, they may not look or feel the greatest.
It's better to pay more for high-quality materials because they have higher durability and can last for 5 to 7 years before needing to be replaced. They have an acrylic base and acrylic or porcelain teeth to ensure your denture closely looks and functions like your natural smile. Choosing discounted materials, like plastic, can be very uncomfortable and break easily.
2. Type of Denture
You have more options than ever to resolve tooth loss. Besides traditional partials and full dentures, implant dentures can also replace missing teeth. The type of denture you choose will affect the final cost of your treatment. Conventional dentures have lower prices upfront, but dental implants are the most cost-effective because they are proven to last for decades with the proper aftercare.
With implant posts serving as tooth roots, they preserve the jawbone to lessen the likeliness of common issues associated with missing teeth. Therefore, they'll also lower your overall dental expenses by avoiding costly treatments later on. Not to mention, you'll enjoy unmatched stability and a lifelong investment.
3. Dental Insurance
Your dental insurance won't cover the entire cost of dentures or dental implants; however, you can use your policy to offset the fees for certain steps in your plan, like the consultation. After reaching your annual deductible, you can use your yearly allowance to lower the amount you'll pay out-of-pocket. Your dentist will work on your behalf with your dental insurance to maximize your policy to keep dentures within your budget.
Enjoy High-Quality Dentures
Missing teeth are more than just an aesthetic issue. Tooth loss also affects your quality of life, general health, and self-esteem. Your dentist will help you find the solution you need to rebuild a beautiful, functional smile without draining your wallet.
About Dr. S. John Salivonchik
Dr. Salivonchik has over 20 years of experience providing world-class dentistry. He is highly sought because of his extensive training and qualifications in complex dental procedures, like soft tissue and periodontal surgery, immediate-load dental implants, and cosmetic dentistry. He strives to deliver superior services that fit everyone's budget. Contact our office today to schedule your consultation to treat your tooth loss.